Venom Blockchain Surpasses One Million Registered Wallets in Record Time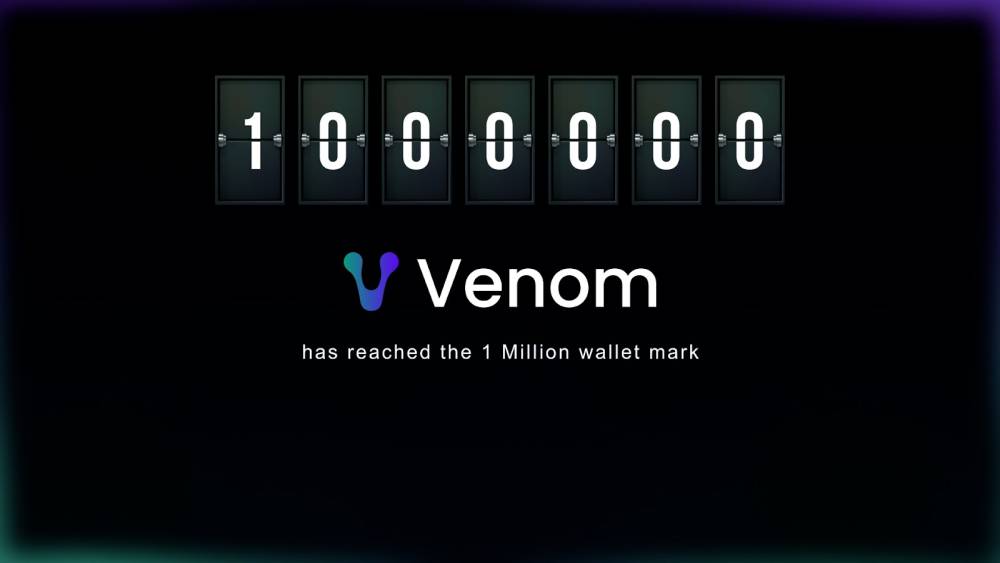 ABU DHABI, UAE, 25 July 2023 – Just three months since its test net launch, Venom Blockchain, the first regulated Layer-0 chain developed in Abu Dhabi, is making waves in the crypto ecosystem. Remarkably, it has attracted more than a million active wallets, thereby signifying an incredibly rapid and robust adoption by the blockchain community.
In June alone
Venom Blockchain reported an astounding 277 million transactions, a significant leap of 46% from May.
This surge demonstrates not only growing confidence in the platform's capabilities but also the high efficiency and robustness of its underlying infrastructure.
These impressive statistics spotlight Venom's potential to become a dominant player in the blockchain space.
A closer look at the platform's features reveals why its growth trajectory has been so steep. At its core, Venom Blockchain is a regulated Layer-0 chain – the first of its kind from Abu Dhabi – designed to foster transparency and facilitate seamless transactions. In the world of decentralized finance and smart contracts, these features are pivotal to both individual and institutional stakeholders.
The platform witnessed an astounding 65% surge in the number of accounts with smart contracts, amounting to a total of 28 million in June. This growth signals an increasing acceptance of the platform's innovative and secure smart contract framework. As decentralized applications continue to drive blockchain usage, the exceptional growth in Venom's smart contract usage underlines the platform's successful strategic direction and the immense potential it has to revolutionize the industry.
Additionally, Venom has captured a significant share of the burgeoning NFT market. In June, the number of minted NFTs on the platform experienced a 93% month-over-month growth, reaching an astonishing 5.8 million. This metric highlights Venom's potential as an NFT marketplace and its ability to cater to the rising demand for unique, blockchain-verified digital assets. Given its current trajectory, it is clear that Venom's vision for a regulated and transparent blockchain ecosystem is resonating with a broad spectrum of users.
Venom's ambitious roadmap, combined with its impressive technical prowess, presents a promising future for this Abu Dhabi-based Layer-0 chain. As the platform continues to grow and adapt, the blockchain community will undoubtedly keep a keen eye on Venom, a pioneering entity set to redefine the landscape of blockchain technology. For more information about Venom Foundation's technologies, framework, and potential platform uses, refer to the Foundation's whitepaper.
About Venom Foundation
The Foundation's primary mission is to facilitate the widespread adoption of blockchain technology by creating an environment that is conducive to both growth and regulation. This vision forms the bedrock of the Venom Blockchain, which has demonstrated its efficacy by achieving over a million active wallets within just three months of its Venom testnet launch.
The Foundation's reach extends beyond the traditional crypto space, delving into the realm of digital art and assets with its focus on non-fungible tokens (NFTs). In a single month, the Venom Blockchain saw a 93% increase in minted NFTs, a testament to the Foundation's effective strategy and the growing interest in NFTs among the global community.
The Foundation's emphasis on regulation not only serves to increase trust and security for the platform's users but also to facilitate collaborations with institutional and governmental stakeholders. By aligning blockchain technology with regulatory compliance, the Venom Foundation is opening new avenues for the mainstream integration of blockchain technology.
As the Venom Foundation continues its journey, its successes offer a promising glimpse into a future where blockchain technology, regulation, and widespread adoption converge. By championing this new model for the blockchain industry, the Venom Foundation exemplifies the potential for innovation and growth within a regulated blockchain framework.
For media inquiries, please contact: Adam Newton
Email: [email protected]
Cryptela Education