Binance-Powered 'After Hours Til Dawn' Tour by The Weeknd Heads to Australia and New Zealand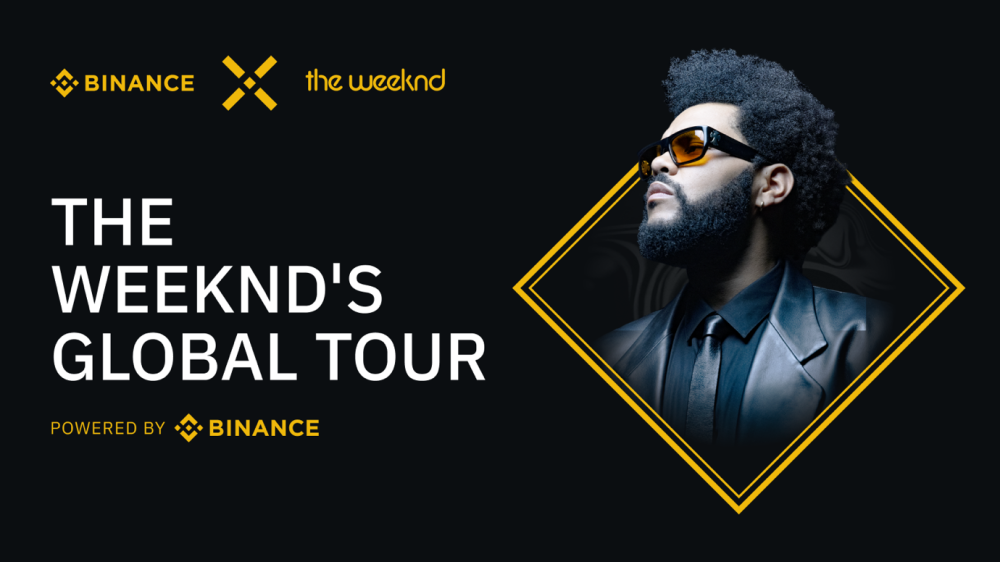 Anticipation skyrockets as The Weeknd announces the Australia and New Zealand legs of the "After Hours Til Dawn" tour, in partnership with Binance.
AUGUST 22, 2023 — The wait is finally over for fans down under. Global music sensation, The Weeknd, in collaboration with the world's leading cryptocurrency exchange, Binance, is bringing his acclaimed "After Hours Til Dawn" tour to cities across Australia and New Zealand this coming summer. This groundbreaking partnership represents a merger between the music and crypto worlds, promising an unparalleled concert experience for fans.
Over the past decade, The Weeknd has emerged as one of the most influential figures in the global music scene, producing numerous chart-topping hits and pushing the boundaries of artistic creativity. His latest album, which gave birth to the "After Hours Til Dawn" tour, has received international accolades, and fans from all over the globe have been eagerly anticipating the tour's expansion.
Changpeng Zhao (CZ), CEO of Binance, expressed his excitement about this collaboration, saying, "Music and technology have always moved hand-in-hand, shaping cultures and bringing people together. We at Binance are thrilled to be part of The Weeknd's 'After Hours Til Dawn' tour. This partnership isn't just about two major global entities coming together; it's a testament to the power of collaboration and the potential of the future."
The partnership between The Weeknd and Binance isn't just symbolic; it's revolutionary. Concert-goers can expect exclusive Binance NFT (non-fungible token) merchandise releases, interactive crypto-based experiences at concert venues, and a chance to win VIP meet-and-greet tickets using Binance's platform. These unique features elevate the concert experience from mere spectatorship to interactive engagement.
Binance has always been at the forefront of the crypto revolution, and its collaboration with The Weeknd signifies its intent to make cryptocurrency more than just a financial instrument. By introducing millions of fans to the potential of blockchain technology and its implications in the entertainment industry, Binance hopes to bridge the gap between traditional entertainment forms and the digital world.
"The fusion of music and technology is a beautiful symphony of progress," said The Weeknd. "To be able to work with Binance, a game-changer in the tech world, allows me to offer my fans an experience that's truly ahead of its time. Australia and New Zealand, get ready for a show like no other."
Australia and New Zealand will witness a total of ten shows, kicking off in Sydney and wrapping up in Auckland. Each city promises a different set design, exclusive merchandise, and special guest performances, ensuring that every stop on the tour is a unique spectacle.
Tickets for the "After Hours Til Dawn" tour will be available for purchase on [specific date]. Due to the heightened demand and limited seating capacity, fans are encouraged to secure their tickets early. In addition to traditional payment methods, Binance users will have exclusive opportunities to purchase tickets using cryptocurrencies.
This tour is more than just a musical journey; it's an embodiment of the future of entertainment. As The Weeknd's haunting melodies reverberate throughout the stadiums, fans will not only be part of a concert but also a movement that bridges the divide between music and technology.
For more information on The Weeknd's "After Hours Til Dawn" global tour, please visit TheWeeknd.com/tour.
About Binance:
Founded in 2017 by Changpeng Zhao, Binance is the world's leading cryptocurrency exchange. Committed to spreading the adoption of cryptocurrency, Binance offers a wide range of services, including trading, a wallet, and educational resources for the global crypto community.
With a foundation built on trust, innovation, and user-centric services, Binance's meteoric rise can be attributed to its unwavering commitment to fostering the adoption of cryptocurrencies. By continually advancing its platform, the exchange has managed to stay ahead of the curve, introducing a plethora of features that cater to both novice and seasoned traders alike.
Beyond merely facilitating trading, Binance has distinguished itself as a holistic hub for all things crypto. Offering users a secure wallet to store their digital assets, and a vast repository of educational resources, Binance ensures that members of its community are well-equipped to navigate the often tumultuous waters of the crypto world. The emphasis on education is particularly noteworthy, as it underscores Binance's dedication to empowering its users with the knowledge necessary to make informed decisions in an ever-evolving digital landscape.
Media Contacts:
Binance: [email protected]
Cryptela Education