Announcement of An exclusive Collaboration for Real-World Tokenization Agreement between TIDEFI and All Time High (ATH) Vodka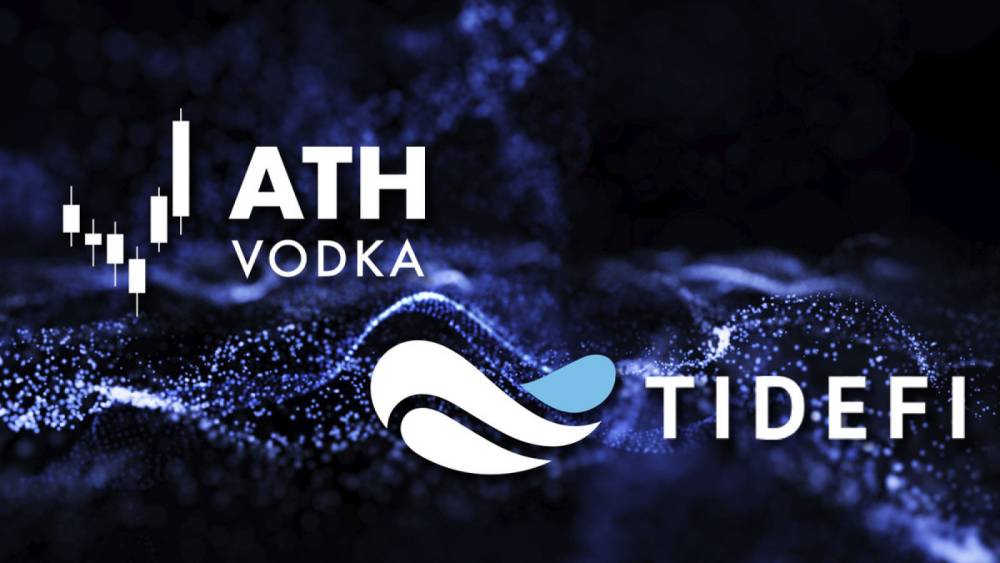 All Time High (ATH) Vodka is a new brand of ultra-premium vodka built around a tokenized incentive structure for community members. Today, TIDEFI DEX, a freshly founded decentralized market focusing on security and accessibility, announced its cooperation with ATH Vodka. Through the collaboration, TIDEFI will assist in the introduction of the ultra-premium vodka brand's distinctive $ATH token, which is based on the layer-one blockchain of TIDEFI.
Mainly, the goal of ATH Vodka® was to revolutionize the spirits industry and develop a completely new business model that offers its consumers benefits beyond just consuming high-quality spirits. Also, by utilizing the potential of blockchain technology to reward and bring real-life utility, ATH Vodka seeks to unleash enormous value. Hence, the expansion and achievement of the ATH Vodka brand helps their whole community as well.
According to Prince Yemoh, CEO of ATH Vodka,
"Our cooperation with TIDEFI has enabled ATH Vodka® to act as a bridge between both industries by way of blockchain technology in order to unlock and offer real-world value and usefulness to the public in the form of tangible digital incentives."
Despite being a young business, Reset Drinks Limited has more than 40 years of expertise in the hospitality industry, notably in the hotel, bar, and restaurant sectors. The first flagship spirit brand developed by Reset Drinks Ltd will be ATH Vodka®. With access to venues, music festivals, celebrities, athletes, and high-net-worth individuals, the founders think they can create something together and market their own brand.
Overall, the high-end, ultra-premium brand ATH Vodka® is created and made with extreme care to guarantee it satisfies the highest requirements. In order to produce a really excellent ultra-premium vodka with the smoothest finish, they source the highest-grade French grain.
ATH employs the finest alcohol, which has been eight times distilled, together with reverse osmosis water that has been cleaned up. Their unique bottle stands out on the top shelf since it is taller than any other product on the market. The design of each bottle also reflects their industry-leading liquid since each one is equipped with an LED light that illuminates nightclubs.
With the help of the $ATH token, consumers may now take part in the expansion of the ATH brand. A total of 1,000,000,000 $ATH tokens will be available at launch, and they will be distributed through the sale of ATH-branded goods and the first distribution activities started by TIDEFI DEX. Users who stake $TDFY starting today will be able to purchase ATH prior to its introduction in early Q1. Visit the TIDEFI discord channel to learn more.
Significantly, users may join the expanding brand and reap concrete benefits from the ecosystem by holding $ATH tokens only on the TIDEFI platform. The HighLife pass, which is offered by the ATH brand and grants access to a network of value and usefulness in the actual world with exclusive collaborators linked to festivals, VIP clubs, luxury hotels, restaurants, and much more, is the ultimate reward. One of the event's sponsors is Cannon run.
The TIDEFI Exchange will power the $ATH token, enabling users to hold, trade, and stake their assets on a single platform. With a community-centered distribution method, the TIDEFI Exchange gives network participants special chances to earn rewards in $ATH tokens and its native $TDFY tokens.
Moreover, the platform is designed to give consumers control over their own experience by giving them simple, low-tech access to a decentralized blockchain environment.
Robert Elsawey, co-founder and CEO of TIDEFIS, says:
"The first physical object that Tidefi has tokenized is this one. We are extending tokenization to the broader public in order to help real-world companies and products gain from being closer to their customers and to make it possible for their community members to interact with them in ways other than just transactional ones."
About TIDEFI
Users may use TIDEFI, a decentralized exchange for digital assets, using an easy one-stop application. The security of the user's assets and information has received a lot of attention in the TIDEFI ecosystem, which was built on the Substrate blockchain technology.
The seed round of investment for TIDEFI brought around 2.5 million GBP. 20 people work on the project's code and ecosystem as a team. TIDEFI also wants the world to know that sophisticated crypto projects don't always need ICOs, VC token sales, or unstable business models in order to be funded. The team's goal is to provide utility-based ongoing value instead.
TIDEFI works to achieve its purpose of delivering decentralized funding for everyone and empowering all customers to make their own economic choices in the economy of DeFi through these choices.
Cryptela Education