Ankr Becomes An RPC Provider to the Sui Blockchain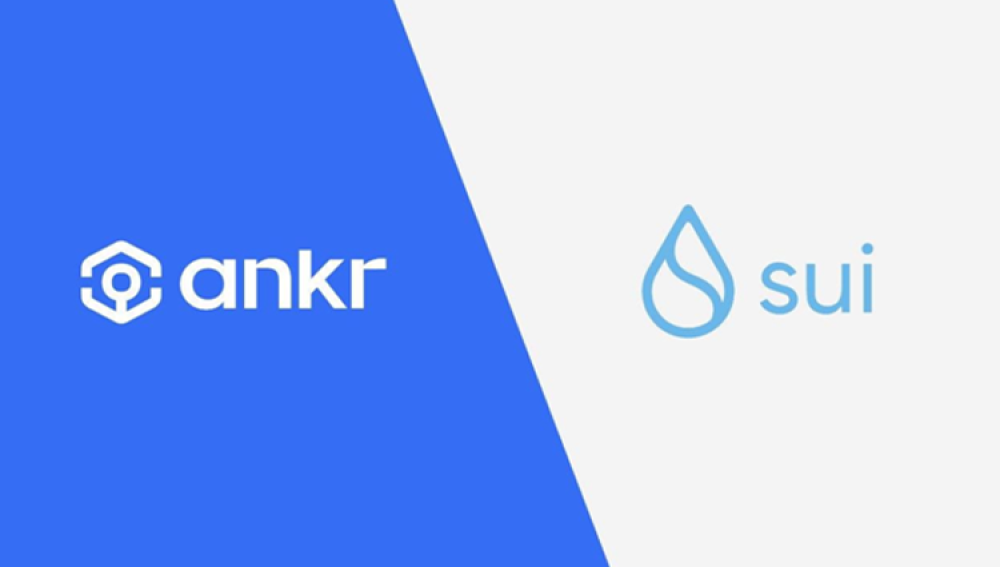 With the speed crypto market is growing, new coins with different use cases are emerging daily- one crypto project that uses decentralized finance is Ankr. This Web3 blockchain-based infrastructure was launched in 2017, enabling cross-chain staking.
The primary purpose of Ankr is to increase blockchain's efficiency and make access to Web3 straightforward. Powered by an Ethereum-based token, Ankr supports 40+ blockchain protocols and can be used for decentralized app development, payments, governance, and staking.
After the latest update, Ankr has become the first RPC (Remote Procedure Call) provider for the Sui blockchain. This integration is helpful for Web3 developers, enabling them to develop upgradeable, scalable, and secure decentralized applications (dApps) on the Sui blockchain.
About Ankr:
CEO Chandler Song founded Ankr in 2017. CEO Chandler Song describes the idea behind the creation of Ankr as a decentralized internet or an accessible platform for Web3 developers.
Ankr is a blockchain-based cross-chain infrastructure and a DeFi podium that allows dApp development and staking. Ankr serves over 39 proof-of-stake chains, various protocols, an RPC aggregator, and an industry-leading global node delivery system for the DeFi sector.
As of 2022, Ankr is the leading infrastructure provider for Polygon, BSC, and Fantom and assists two trillion+ global transactions. For straightforward and quick Web3 app development, Ankr offers Web3 developer tools such as Web3 Gaming SDK, Liquid Staking SDK, and AppChains.
The design and development of Ankr are based on the new internet (Web3) -the ledger-based technology with decentralized protocols, applications, and systems secure for users. The primary purpose was to remove the mediator and centralized authorities, having control and ownership over the user's data.
The development team of Ankr released a mainnet staking protocol, "Stkr." Using Stkr, users can stake Ethereum in exchange for aETH, which is the potential profits on the funding amount. Users can also develop nodes and dApps on the network and take advantage of capitalizing nodes to relish the perks of staking on the Web3 platform.
About Sui Blockchain:
Sui is a Layer-1 blockchain, initially designed by Meta, that runs on smart contracts. Designed from the bottom up, Sui allows programmers and developers to develop an application for the next billion Web3 developers.
Sui utilizes smart contracts developed with Move, a computer language created by Meta to support Libra coins. The Move is a rust-based language (rebranded Diem and uninhibited in 2022). However, Move is accessible on GitHub as a programmable blockchain platform.
Sui is horizontally scalable and is developed by Mysten Labs. Adeniyi Abiodun, the co-founder of Mysten Labs, explained the purpose of utilizing the Move programming language in smart contracts.
He stated, "Move represents the safe operation of digital assets- Along with the Move Prover verification tool, the programming language was jointly created. It enables Move developers to formalize the underlying consistency features of a program and utilize the prover to test that these features hold over all feasible inputs and transactions."
The Move structure smart contracts promise improved security. This rust-based language prevents poison tokens, re-entrancy vulnerabilities, and spoofed token approvals. Abiodun said, "It focuses on stability and simplicity, allowing developers to go from Web 2.0 to Web3 without being familiar with the nuances of the protocol stack."
Ankr is Now an RPC Provider to the Sui Blockchain
Ankr is one of the first RPC providers for the Sui blockchain. Thanks to the new integration, Web3 developers can now access the Premium RPC and Sui Testnet Community to perform query calls and get correct data in response.
This partnership allows Web3 developers to develop upgradeable, scalable, and secure decentralized applications (dApps) on the Sui blockchain. Through RPCs, the dApps can interact and communicate with the Sui 1-Layer blockchain.
Besides the Sui 1-Layer blockchain, the integration will include blockchains such as Polygon, Ethereum, Solana, Avalanche, Binance, and Fantom to request RPCs calls. Though it is still in the test phase, the developing team says the Sui testnet has seen 160K+ transactions/second.
Ankr, an RPC provider for the Sui blockchain, connects dApps, command-line interfaces, and wallets. Ankr performs as an envoi to bring in on-chain data between the dApps, Sui nodes, and users so they can complete obligatory tasks like fetching ownership information, checking wallet balance, staking coins, performing transactions, and more.
The Sui mainnet is under process; if everything goes as planned, Ankr will add additional features, tools, and docs to support the Web3 developers in streamlining development. Ankr offers high-performance and time-tested RPC node infrastructure to handle massive requests load and expands Sui resources.
Ankr powers the Sui blockchain to run it faster and give users the best Web 3.0 experience. Ankr strengthens the optimism network with decentralized optimism and geo-distributed RPCs.
Regarding the integration, Josh Neuroth, the head of product, stated, "As an RPC provider, Ankr will make it straightforward for all Web 3.0 developers to begin extending the ecosystem. It is just the beginning. Ankr's products for blockchain will indeed attract more demand ahead of the anticipated mainnet launch."
Problem Solving Ankr's Sui Mainnet RPC
Ankr is among the world's leading RPC request providers serving eight billion+ blockchain requests daily across 50 Web 3.0 networks. The time-tested and high-performance nodes help Ankr handle a massive load of RPC requests.
Ankr, an RPC provider for the Sui blockchain, provides the following solution;
Empowers and supports dApps development on the Sui network.

It is an instant connection for the Sui blockchain for all dApps and Web 3.0 developers.

It grants access to premium features, tools, and docs. The premium ROPC services make the development process effortless and quick.

It eliminates the need for Web 3.0 developers to set up their nodes and the hours they spend calibrating, building, and fixing node concerns.

It enables flexible hybrid custodial options and key management.
Closing Thoughts:
Ankr has just released the Sui blockchain integration, which is exciting for Web 3.0 developers. This integration gives them a gateway to developing upgradeable, scalable, and secure decentralized applications (dApps) in the new ecosystem. No signup or login is required to use the endpoint- make your first call to the Sui blockchain now.
Cryptela Education