Bybit's New Rewards 2.0 Scheme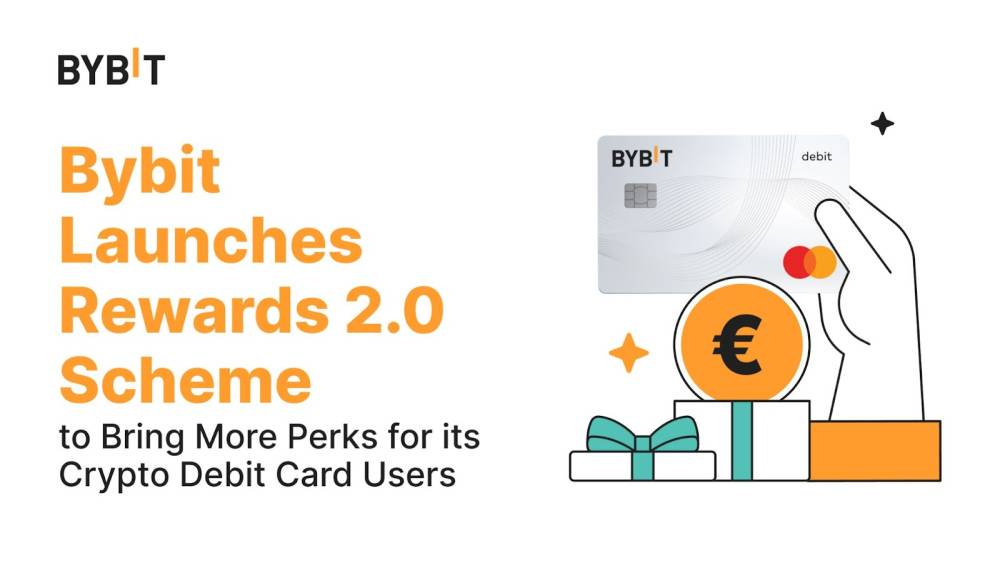 DUBAI, United Arab Emirates, Sept. 18, 2023 - Bybit, globally ranked as the third most popular crypto exchange, unveiled Rewards 2.0, their enhanced loyalty program, following the notable success of the Bybit Debit Card since its introduction in March.
Dive into Rewards 2.0
The latest Rewards 2.0 scheme is Bybit's answer to the growing needs of its users. So, what's on the menu?
Exclusive Discounts: Imagine buying your favorite gadgets or booking that dream vacation and getting a hefty discount just because you're using the Bybit card. Sweet deal, right?
Cashback Options: You know that feeling of a little cash coming back to you after a purchase? With Bybit, you get that satisfaction with every swipe.
Partnered Offers: Collaborating with various brands and companies, Bybit ensures its card users get exclusive deals they won't find elsewhere.
Thinking about how to be part of this? How to Get on Onboard is quite simple. With easy-to-follow steps on their website, you'll be part of the Rewards 2.0 club in no time.
With Bybit Card's revamped Rewards 2.0 program, users can now tailor their benefits to suit their preferences. Dive into a broader spectrum of reward choices, including:
Earn as much as 10% cashback* when you spend crypto using your Bybit Card;
Trading Perks like Trading Bonuses, Special Coupons, Fee Reductions, NFTs, Exclusive VIP Test Cards, and Bonus Airdrops;
Digital Gifts, featuring gift cards from renowned online shopping platforms;
Tangible Goods, boasting Bybit's unique merchandise as well as joint-brand items.
Furthermore, Bybit has opened its doors to the premium VIP Card tier, catering to an elite clientele with superior advantages and incentives.
Let's take a brief moment to look at the current state of cryptocurrencies. With a market cap running into trillions and new coins emerging daily, it's evident that digital currencies aren't just a passing trend. They're here to stay. And with the introduction of crypto debit cards, they're no longer limited to online transactions.
Bybit's vision isn't just about facilitating trades. They aim to bridge the gap between traditional fiat currencies and cryptos. By offering a seamless spending experience with their debit card, they're fostering a new era of financial transactions.
Bybit
The integration of crypto into daily spending doesn't just benefit crypto enthusiasts; it's a game-changer for the entire financial ecosystem. It's breaking down barriers, introducing more people to the world of digital currencies, and ushering in a new phase of economic evolution.
In the dynamic and ever-evolving world of cryptocurrency, Bybit stands tall as a beacon of innovation and reliability. Established as a premier digital currency trading platform, Bybit is dedicated to providing its users with a seamless, secure, and intuitive trading experience. By staying ahead of market trends and continuously evolving its features, Bybit ensures that both novice and veteran traders have the tools and insights they need to thrive in the competitive crypto market. Whether you're looking to make your first crypto trade or diversify your digital assets, Bybit is the go-to destination for all things cryptocurrency.
For media inquiries, please contact:

[email protected]
Cryptela Education