Bitski and Tezos Power Red Bull Guest House Ticket Experience at Miami Grand Prix 2022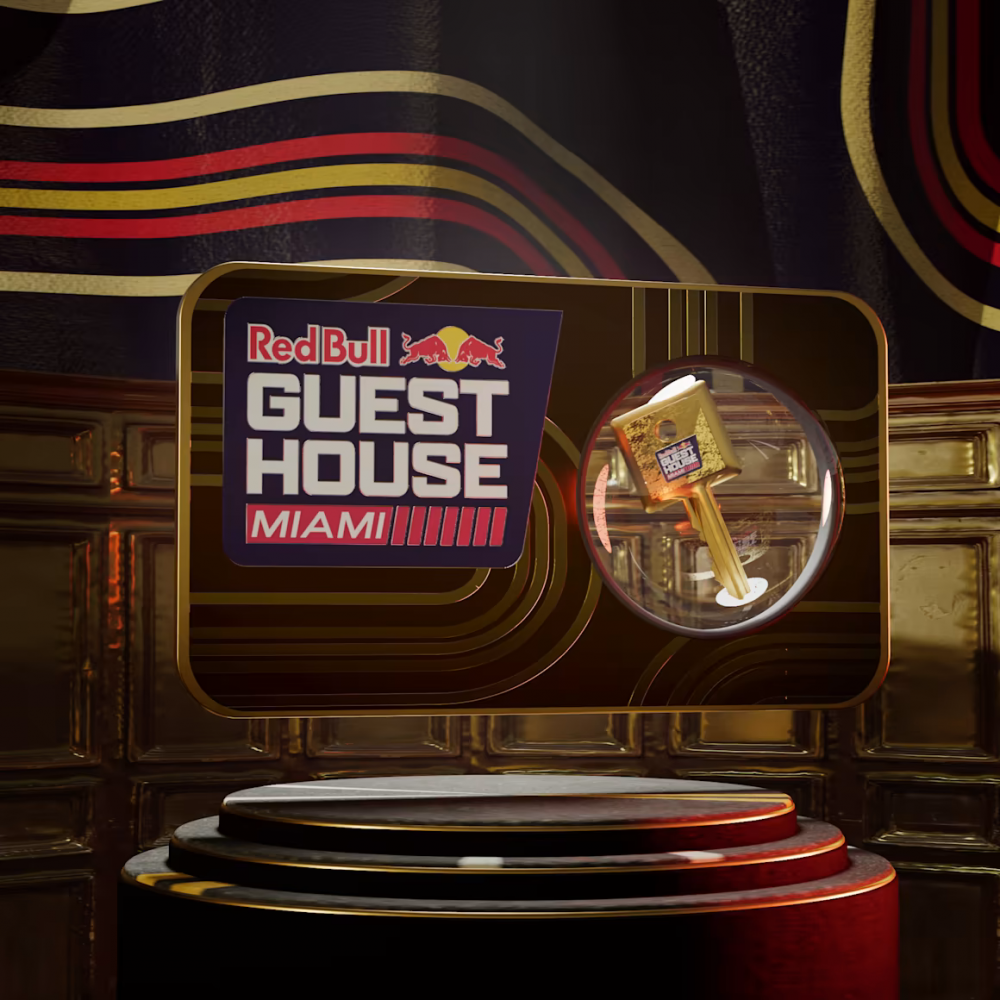 LOS ANGELES– May 7th, 2022– Bitski, an San Francisco-based startup that builds custom NFT storefronts for brands and creators, integrated the Tezos blockchain to offer Red Bull's first-ever NFT collection Red Bull Guest House Keys, which will unlock special access and benefits to guests staying at and attending Red Bull Guest House Miami 2022.
The Red Bull Guest House Keys are minted on the energy-efficient Tezos blockchain and supported by NFT wallet provider, Bitski. The keys, given to all Red Bull Guest House Miami guests and attendees, serve as a digital keepsake moment from the weekend and unlocked special access and benefits, including entry to secret rooms and other custom surprises.
Red Bull Guest House Keys incorporate elements of prestige and luxury and envision a new golden era of racing lifestyle. Keen observers will notice the references to podiums, flags, and keys in the custom artwork. The keys were sent via text to RBGH attendees, where recipients will be prompted to create a Bitski wallet to store their NFT ticket.
The NFT ticket granted attendees access to each day of the Red Bull Guest House:

– Golden Key: Inspired by motorsports heritage and represents a new era of racing lifestyle, the Golden Key grants an all-access pass to RBGH Friday through Sunday with access to a private bar.
– Friday Key: The Red Bull Guest House Friday Key sits atop a podium and features elements inspired by Miami's Latin music heritage, as well as stunning floral arrangements inspired by the work of Colombian/Israeli visual artist and Art Director Orly Anan. (One-day access)
– Saturday Key: celebrates an unforgettable night of automotive-inspired electronic music. The sleek key sits atop a podium and features lasers, speakers, and other elements inspired by the intersection of electronic music and car culture. (One-day access)
– Sunday Key: The glittering Red Bull Guest House Sunday Key sits atop a podium and features disco balls, palm trees, and other elements inspired by the immersive futuristic disco dance experience. (One-day access)
Tezos has become one of the world's most popular blockchains for NFTs. Last year, Oracle Red Bull Racing launched the Team's first ever range of digital collectible NFTs exclusively on the Tezos blockchain that coincide with the 2021 Mexico Grand Prix. Some of the most recognizable sports organizations choose to build the fan and customer engagement on Tezos including Manchester United, McLaren Racing, and sporting goods retail leader Decathlon.
To learn more about Tezos and Bitski, click these respective links.
###
About Bitski:
Since 2017, Bitski has been building NFT and developer tools that make it easy for anyone to build and explore the metaverse. Whether you're fluent in Rust or allergic to coding, Bitski makes simple solutions so you can seamlessly own, sell and use digital creations on Bitski and beyond. As a core part of that mission, the company set out to create a wallet that's radically simple to use for Web3 newcomers, with all the interoperability and security that degens expect. In other words, Bitski built an NFT wallet for everyone.
About Tezos:
Tezos is smart money, redefining what it means to hold and exchange value in a digitally connected world. A self-upgradable and energy-efficient Proof-of-Stake blockchain with a proven track record, Tezos seamlessly adopts tomorrow's innovations without network disruptions today. For more information, please visit www.tezos.com.

To learn more about Tezos, click here.
Cryptela Education